WHAT WILL MY HOME RENT FOR?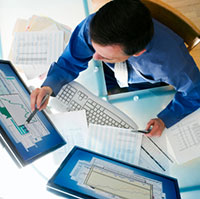 The key to securing quality tenants and retaining them is making sure that the property rental rate is competitive. If the rents are set too low the owner is leaving money on the table, and if the rents are set too high the number of interested tenants looking at your property will be greatly affected.
The first step is to call a qualified management company to meet with you on site, to do a market analysis of your property. This analysis should include any information that accounts for pricing factors such as location, property condition and what similar properties in your area have rented for recently.
Pricing your property is one of the most critical elements of the property management company's job - and it is important that both the owner and Management Company agree on the final rental value for the property.
We may also make recommendations regarding repairs, redecorating, and upgrades – so that you will receive the maximum rental income.
why use Renters Outlet
Services & Fees
Inquire About Our Services